CHEESE 2 Surgical Laser System    (Now does Laser Therapy too!)
The new CHEESE II Class 4 Diode Surgical Laser has a bigger color touch screen, wireless foot control and customizable pre-set protocols.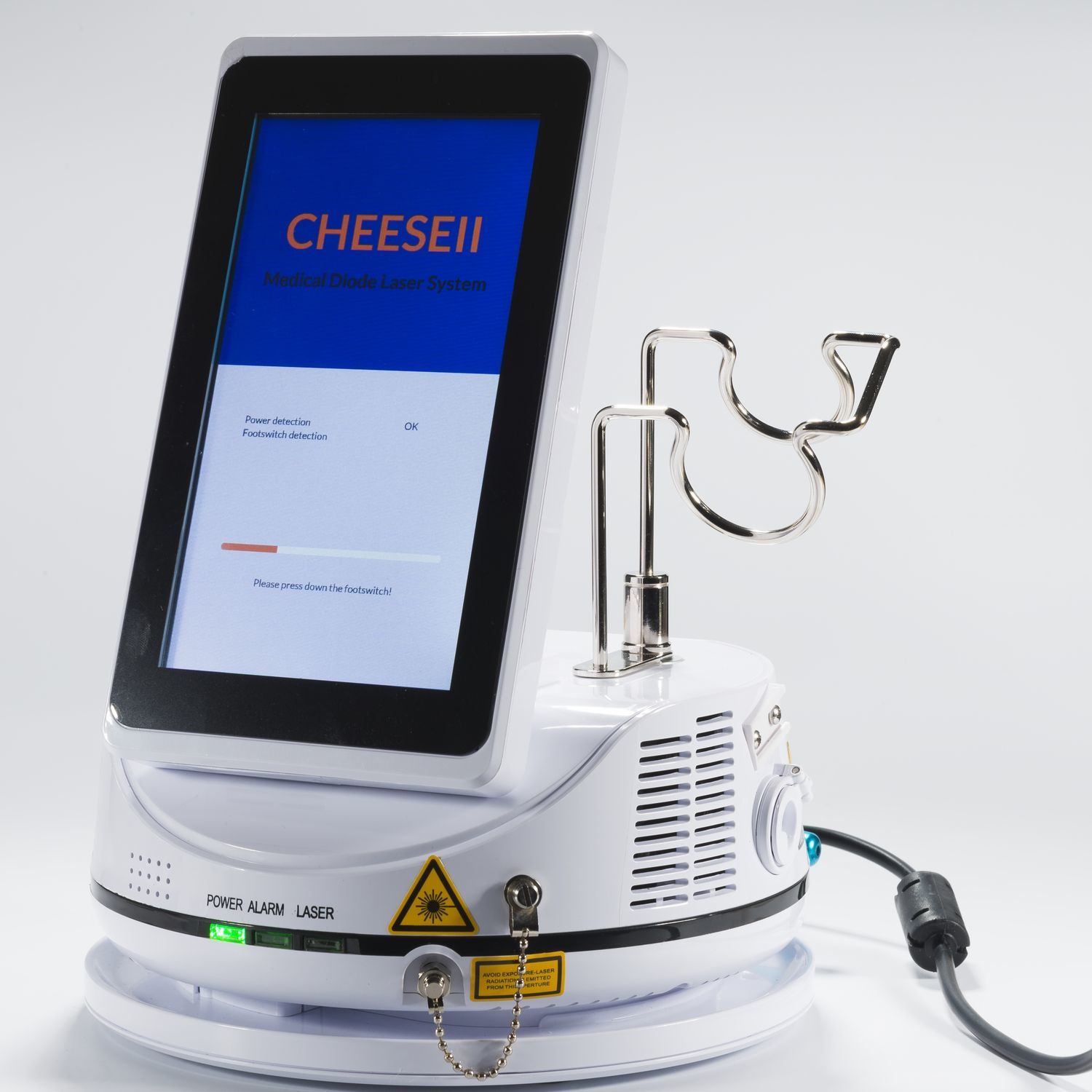 NOW can be fitted with a therapy hand piece to enable true Class 4 Diode laser therapy.
Choose between the DEN 7A/B (7watt continuous @ 810nm or 980nm) or the DEN 10B (10watt continuous @ 980nm), both with veterinary specific software.
Main Advantages
This is an ideal, affordable entry into diode laser surgery and now therapy.
A tidy compact benchtop laser weighing 1.8kgs.
The cheapest entry into Class IV diode laser surgery.
2 year warranty supported in Australia, with 3 year warranty option.
Description
Technical Specifications
Laser Type
GaAlAs Diode Laser
Model
DEN7A DEN7B DEN10B
Wavelength
810nm 980nm 980nm
Maximum Power
7W (with min. 200um fiber) 10W (with min. 200um fiber)
Operation Mode
Continuous or Pulse
Pulse Duration
1ms ~ 1s
Repetition Rate
0.5Hz~0.5kHz
Transmission System
Fibers Of 200um ,400um And 600um With SMA905 Connector
Pilot Beam
Red Diode Laser Of 635nm, Power<3mW
Control Mode
Micro Touch Key And Touch Screen
Voltage/Current Rating
AC100~240V/1A, 50/60Hz, or DC25.2V4A, or Charged Battery
Dimensions
200(L)*120(W)*155(H)mm
Weight
<1.8Kg
Safety Compliance
CE 0482
Specifications subject to change without notice.
Documents
Supporting Documents Here
Images
Videos